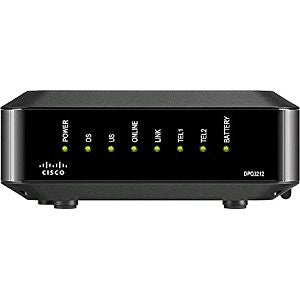 Cisco DPQ3212 DOCSIS 3.0 Optimum Telephone Modem with Embedded Digital Voice Adapter
Regular price $ 129.99 $ 47.95 Sale
HIGH SPEED BROADBAND FOR UNINTERRUPTED STREAMING AND GAMING*
This Cox, Cablevision Optimum Telephone modem DPQ3212 delivers high-bandwidth transfer speeds via your existing cable Internet system. With channel-bonding technology, you'll experience download speeds up to 340 Mbps and upload speeds up to 120 Mbps, perfect for streaming HD media, online gaming, media sharing, and surfing the web.
DOCSIS SUPPORT AND IPV6 TECHNOLOGY**
With support for DOCSIS 3.0, 2.0, and 1.1, the DPQ3212 Optimum Telephone modem allows for high-bandwidth transfer rates over your existing cable system to ensure you get top speeds from your cable broadband connection. The addition of IPv6 features provide you with the latest Internet Protocol technologies to keep your connection up-to-date.
AFFORDABLE, Cox, Cablevision, and Optimum Telephone Modem
Certified by Cox and Optimum Telephone modem works with most major cable broadband providers, the DPQ3212 Optimum Telephone Modem gives you freedom from monthly modem rental fees.
At a Glance:
340 Mbps download and 120 Mbps upload speeds for high bandwidth
Gigabit Ethernet port for fast network connections
Cox, Cablevision, and Optimum Telephone modem-certified with easy setup
DOCSIS 3.0 and IPv6 support ensure up-to-date connectivity
Eliminate monthly modem rental fees
OPTIMAL SPEED: 

Multiple channels support download speeds of up to 340Mbps and upload speeds of up to 120Mbps. (Actual performance can vary and depends on many factors.)

MULTIPLE CHANNELS: 

Channel bonding for powerful throughput of up to 4x faster than DOCSIS 2.0.

GIGABIT ETHERNET PORT: 

Transfer data 10x faster than Fast Ethernet, ensuring high-speed connectivity for wired devices.

EASY SETUP: 

Simple 3-step setup. No software required as a Optimum Telephone modem
Item is in refurbished condition and includes everything needed for set up!  
• Cisco DPCQ3212 Docis 3 Optimum Telephone Modem EMTA
• Power Supply   
• Cat5e patch cord
- Back Up Battery
 User Guide: http://www.cisco.com/c/dam/en/us/td/docs/video/at_home/Cable_Modems/3000_Series/4022345_B.pdf
CUT YOUR CABLE TV BILL NOW!
Give the Gift of Amazon Prime