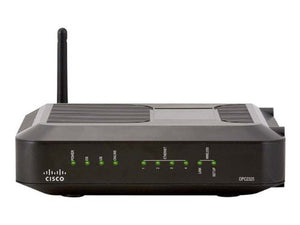 CISCO DPC2325 DOCSIS 3 WIRELESS GATEWAY MODEM
Regular price $ 69.99 $ 39.96 Sale
Cisco DPC2325 DOCSIS Wireless Gateway SuddenLink Modem Router
Three features into one. A router, cable modem, and wireless access point provide internet connection solutions for both small office networks and home users.

Can be used on both DOCSIS 1.1 and DOCSIS 1.0 networks, because it is fully backward compatible.

4-port switch - 802.11b/g 

Approved as a Suddenlink Modem, WOW Modem, Charter modem & more!
Product Description
The Cisco 10/100 wireless Suddenlink modem router has one antenna and a wireless transmission speed of 54 Mbps. Featuring a fast Ethernet port, the Cisco DPC2325 Suddenlink modem wireless G router has four network (RJ-45) ports, one management port, and one broadband coaxial port. The Cisco 10/100 wireless router features a number of security features, including SPI, NAT, and NAPT. The DPC2325 Suddenlink modem wireless router can be wall mounted and is compact enough to be simply placed on the desktop. Offering an ISM maximum frequency of 2.40 GHz, the Cisco DPC2325 wireless G router features connectivity that can be by wired or wireless, and the device has a port speed of 10/100.
Item is in amazing refurbished condition.
INCLUDES:
- POWER CORD
- ETHERNET CORD
CUT YOUR CABLE TV BILL NOW!
Give the Gift of Amazon Prime
BUY THIS SUDDENLINK MODEM TODAY AND SAVE!